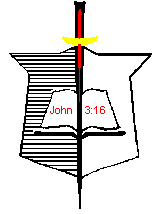 "For God so loved the world, that he gave his only begotten Son, that whosoever believeth in him should not perish, but have everlasting life."
. . . John 3:16 . . .

If This Streaming doesn't work on I.E. Windows 7 Please use the Firefox Browser.
Click here to download Firefox.
If the player above is not working properly, you can access an alternative player by clicking this LINK

For whosoever shall call upon the name of the Lord shall be saved.
Romans 10:13
From the Authorized King James Bible
"Heaven and earth shall pass away, but my words shall not pass away." Matthew 24:35
"But as it is written, Eye hath not seen, nor ear heard, neither have entered into the heart of man, the things which God hath prepared for them that love him."

. . . 1 Corinthians 2:9 . . .
the
BIBLE FOR TODAY
900 Park Avenue
Collingswood, NJ 08108
Phone: 856-854-4452
Fax: 856-854-2464
Orders: 1-800-JOHN 10:9
E-mail: bft@biblefortoday.org
Copyright © 2012 - 2013 The Bible For Today - All Rights Reserved Worldwide.


WebSite PageViews